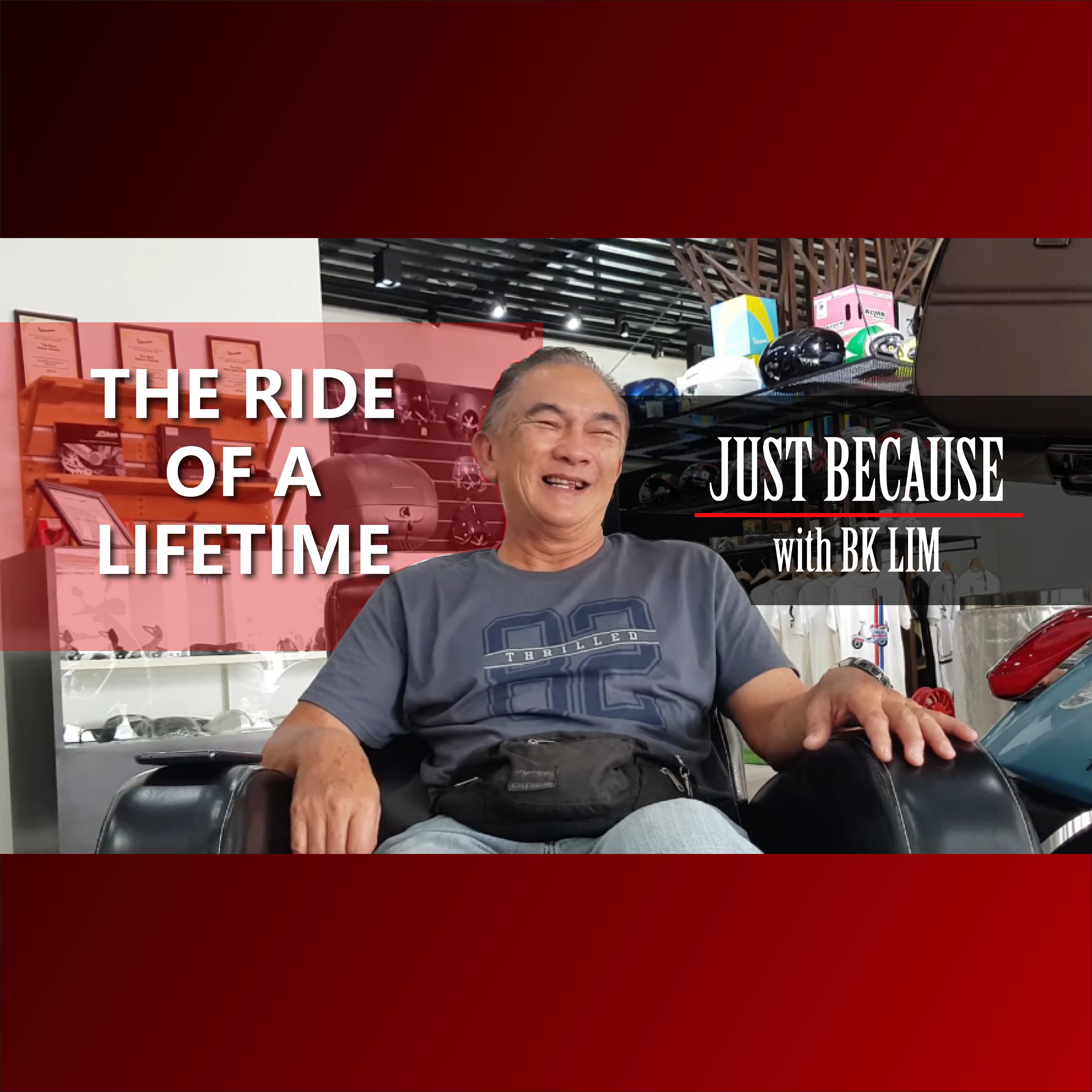 BK Lim -- The Ride of a Lifetime 
Motorbike salesman BK Lim is a man I've been chasing for a long, long time, after I first heard of his monster trip from Downing Street in Penang, Malaysia, to 10, Downing Street St in London, England, where the British Prime Minister goes to work! 
Spanning 25 countries, 38,000 km and completed over four months, the journey was even more incredible because it was completed on Honda 125cc motorcycles by retirees and grandfathers, all of them from Penang, in Malaysia. 
The youngest, Lee Hang Chung, was 53 at the time, while the eldest, Frankie Cheah, was 69.
BK Lim himself was 62 when he completed the journey. 
Listen to his story of the trip here and his next journey, from Anchorage in Alaska to Tierra Del Fuego, in Argentina, at the southernmost tip of South America.
More stories and pictures of Downing to Downing here: 
Today Online - 'M'sian grandfather rides through snow, deserts on bike to Downing St': https://bit.ly/30p4but

The Star: 'Bikers finally reach Downing Street, London': https://bit.ly/397yslA

More pics and posts here: https://bit.ly/3hjnagH
>>
Contents: 
01:18 -- Downing (Penang) to Downing (England): The Route 
01:56  -- Death in Delhi 
02:54 -- What it Takes to Ride Overland 
05:36 -- Everyone Was On a Kapchai 
06:28 -- Turkmenistan: 2800km in 5 days
10:10 -- No Journey for Old Mean -- The Biggest Obstacle? 
12:26 -- When a Bike Becomes a 4WD 
12:47 -- The Honda Wave 125 is the Best Overland Bike 
14:00 -- No Sponsorship from Boon Siew Honda Malaysia .. But Sponsored in Thailand! 
16:06 -- A Stock-Standard Bike 
16:30 -- Best Thing About the Trip?
20:00 -- Urban Gorillas .. Many-Star Hotels 
22:39 -- The Next Trip: Alaska to Argentina: 55,000km, 25 Countries, 5 Months 
24:34 -- A Naked German 
26:08 -- Solo is Safer 
27:01 - - Longer Means More Money
28:20 -- Alaska to Argentina: Budget? 
28:37 --  Strategies for Overlanding 
30:36 -- What the Wife Said 
32:13 -- How to Travel For Free to Alaska 
33:44 -- Riding is Therapy 
34:26 -- Safety While Riding 
35:46 -- After Alaska, Africa! 
36:46 --  Gone is the Femur, Thanks to a Drunk Driver 
38:09 -- Smashed Ribs in Iraq 
Thanks to Sum Sun Motors in Penang for the shoot venue 
Visit Sum Sun here (ask for Ah Boy): https://sumsunmotor.com/
FB: https://www.facebook.com/vespapg/
>>
Follow DoMore here: 
WEBSITE: https://www.domore.my/
YOUTUBE: https://www.youtube.com/c/DoMoreTakeChargeofYourLife
ITUNES: https://apple.co/2lQ47mS
GOOGLE PLAY: https://bit.ly/3b1l8iO
SPOTIFY: https://tinyurl.com/y6zufvcp
PODBEAN: https://domoreasia.podbean.com/
INSTAGRAM: https://www.instagram.com/domore.asia/
----------------------------